If The Court Strikes Down Obamacare, How Bad Would That Be?
- John C. Goodman
Even some Republicans resist challenging the health care status quo.
Is America Turning Into a Nation of Dunces?
- Thomas L. Jipping and Peyton Smith
It is essential that we get back to teaching the basics of American civics.
Today in History: "The British Are Coming!"
(1775) ...
San Francisco Rocked By Earthquake
(1906) ...
First Game Played in Yankee Stadium
(1923) ...
Doolittle Bombs Tokyo
(1942) ...
Ernie Pyle Killed By Sniper
(1945) ...
League of Nations Goes Out of Business
(1946) ...
Senate Votes to Surrender Panama Canal
(1978)
...
More Headlines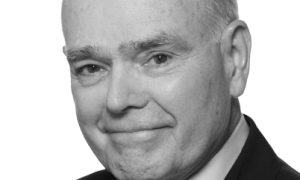 What Americans Must Know About Socialism
- Lee Edwards, Ph.D.
Socialism is no longer just a parlor game for academics. It is here.
The spectre of socialism is obviously haunting America's millennials.
...
More In-Depth
Sanders Proposal Falls Short
- The Altoona Mirror
"Medicare-for-all" plan would deny Americans the coverage they choose.
Building a Healthy Political System
- Scott Rasmussen
It's no secret that America's political system is badly broken.
Bernie and the Tax Man
- Geoffrey Norman
The tax returns… return.

Is the Affordable Care Act Unconstitutional?
- Andrew Napolitano
When a tax is no longer a tax, can you be forced to buy insurance?
Rhetoric Won't Fix the Border Crisis
- Debra J. Saunders
Changing immigration law and enforcement beats building a wall.
Not Everything Is 'Equal'
- Robin Smith
The "Equality Act" is about anything but equal treatment under the law.
TrumpCare Better than ObamaCare
- Betsy McCaughey
Don't believe the dire predictions coming out of left field.
Identification Over Qualification
- Michael Swartz
At least Stacey Abrams is honest: She embraces identity politics.
Police Aren't Enough
- Walter Williams
No, the underlying cause of inner city crime is not racism or slavery.
...
More Op-Ed
Visitor Posts (latest first)
PKT
- Liberate Government Workers ...
TM
- Landrieu's Myth ...
TM
- Hillary Clinton Supporters ...
PKT
- Nationalism and Populism ...
TM
- The Mizzou Meltdown ...
TM
- The Second Indictment ...
PKT
- America: Love It Or Leave ...
E.F
- Munn v. Illinois ...
PKT
- Is Thinking Now Obsolete? ...
PKT
- Cops or Soldiers? ...
TM
- The Great American Con ...
TM
- The Imperial Presidency ...
R G McCollum
- Document located in Gen ...
PKT
- The Progressive Degradation ...
PKT
- It's More Than Just ...
TM
- Rescuing Citizenship ...
"Our obligations to our country never cease but with our lives." - John Adams, letter to Benjamin Rush (1808)